Never heard of us? We are actually one of the quickest growing brokers in the UK.
Over 13,600 people already insure their motorbikes with us because our cover and price suits their budgets.
We understand that some customers like to compare motorcycle Insurance quotes online. However, Goskippy offers you cheap bike insurance and covers all the necessary motorcycle insurance requirements to protect you against any eventuality, so you can find everything you need in one place.
We have three levels of cover, including;
Provisional cover
Third Party, Fire and Theft
Comprehensive
Bike insurance is a legal requirement in the UK, so before hitting the open road make sure you have the right insurance cover. We understand that every rider and every bike are different so whether you are a motorbike enthusiast or simply enjoy escaping for leisurely weekends, we have the right cover for you.
Why choose GoSkippy Bike Insurance?
Low cost
GoSkippy brings you budget motorbike insurance as well as giving you the option to tailor your cover.
Versatile
Whether you are an avid motorcycle enthusiast, own a high-performance superbike or simply drive a moped on your daily commute to work, we have the ideal bike insurance product for you.
Optional extras
We have a range of insurance add ons such as helmet and leathers cover and substitute bike cover, so we can create the perfect package for your needs.
24/7 policy access
You can take control of your bike policy day or night by logging into your online customer portal. Here you can check or make changes to your cover, request and send documents and have peace of mind that your cover is up to date.
Self-help service
If you are in a rush, we have a fantastic 'self-help' service where you can find answers to your questions about bike insurance without having to call in.
Online customer service
You can also find help through our social media platforms, where a team of our customer service agents are ready and waiting to help you with your bike insurance. You can chat with our agents from 9am – 8pm Mon-Fri. 9am – 6pm Saturday.
Competitive rates
Get your bike insurance quote today from as little as £81 per year*
*Based upon our lowest paid premiums from 31st Oct' 16 to 31st May 17
Frequently asked bike insurance questions
Are my motorbike leathers covered?
This is not included in standard cover; however, we do offer an optional extra for helmet and leathers cover.
Can I use my No Claims Bonus from my car policy?
No, unfortunately you cannot transfer car No Claims Discount onto your bike policy.
Am I covered to ride another person's bike?
This will depend on the level of cover purchased and the term of your chosen policy. Your certificate of motor insurance will tell you whether your policy covers you while you are riding any other motorcycle. This can be found by logging into the portal.
My bike has modifications, can I still get cover?
This will depend on the modifications. Details of modifications will need to be referred to the insurer to confirm if they will cover the bike or not.
Can I carry passengers?
We do offer pillion cover with some of our policies, if you are covered to carry pillions, it will be stated on your certificate of motor insurance.
Our Bike Insurance Happy Customers
Don't just take our word for it
* Score is 3.37 out of 5 based on 4192 reviews at Reviews.co.uk
Eligibility
If you are thinking of investing in a motorcycle or scooter, familiarise yourself with the eligibility criteria needed before you run through a competitive quote online or speak to one of our sales agents.
To ensure our insurers and credit providers have the necessary facts to assess your insurance risk, verify your identity, to help prevent fraud, it is important that you provide accurate information. Please take reasonable care to answer all the questions honestly and to the best of your knowledge. If you don't answer the questions correctly, your policy may be cancelled, or your claim rejected or not fully paid.
You and any other driver
Are aged between 17-74.
Hold a valid UK or EU driver's license, and are permanent residents in the UK. Please note, our insurance policies are for UK residents only.
Do not have any non-motoring convictions which are not spent under the Rehabilitation of Offenders Act.
Have never been refused or had special terms or cancellation imposed on previous insurance policies.
Your no claims bonus
Has been earned in the UK from a private bike policy, and is not being used on another vehicle.
Your no claims bonus is no more than 2 years old.
We give you the opportunity to upgrade your bike insurance with a number of optional extras including;
Helmet and leathers
Key cover
RAC bike breakdown
Legal expenses
Substitute bike cover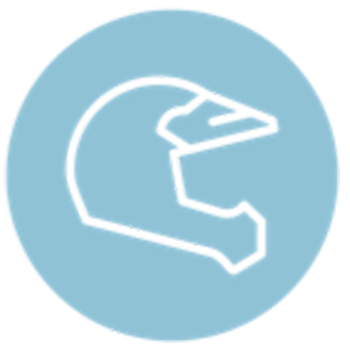 Helmet and Leathers cover from £50.99
Repair damaged helmet or clothing
Replace leathers damaged beyond repair
Up to £1,500 of cover per annum (exclusions apply)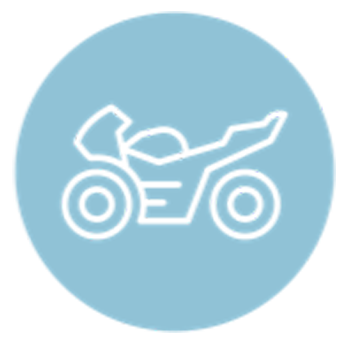 Replacement vehicle cover from £23.99
A hire vehicle will be provided if your vehicle is stolen, or damaged or deemed un-drivable after an accident with another vehicle.
Replacement vehicle provided if your vehicle is stolen or immobilised as a result of an attempted theft, vandalism, or criminal damage.
24-hour helpline, so you can speak to us day or night.
Types of bike insurance cover
What does comprehensive insurance offer?
Comprehensive cover insures against any accident that you may have, whether it's your fault or not. This includes damage caused to your bike when it is unattended, such as a vandalism incident or a hit and run. However, whether or not it is your fault, claims can result in loss of No Claims Bonus, so check before you claim. Comprehensive cover also covers your legal liability to third parties (including damage to their vehicle or compensation for injuries sustained if the accident was your fault). The cover extends to fire damage to your bike, or damage arising out of the theft or attempted theft of your bike.
What does Third Party, Fire and Theft insurance offer?
Your legal liability to third parties is covered (including damage to their vehicle or compensation for injuries sustained if the accident was your fault). The cover also extends to fire damage to your bike, or damage arising out of the theft or attempted theft of your bike.
What does provisional insurance offer?
As younger drivers are statistically more likely to be involved in accidents, and have a limited amount of experience driving it is important that they are insured. Provisional insurance offers teenagers and young people, as well as older provisional drivers, cover until such time that they pass their drivers license. GoSkippy offers competitive quotes and low monthly premiums, especially if a more experienced motorist, such as a parent or other adult, is listed as the main driver on the provisional policy.
We are always here to help
We have a fantastic online customer service team; our bike insurance experts can assist you with all of your insurance questions. You can chat to them via our social media pages linked below:
Prefer to find the answers yourself? Visit our Self Help service by clicking the icon to the bottom-right of this website.
Speak to one of our Bike Insurance Experts by calling customer service on: 0344 776 5748