Red Bull have launched the best looking Formula 1 car you're likely to see.
The RB14 is the first car to be unveiled by a major team and features a number of technical innovations including very narrow and aggressively undercut side pods and unique aerodynamic airflow-shaping devices in front of them. The rear wing features endplates that cut in towards the centre of the car in a more angular and dynamic manner than is usual.
Powered by a Tag Heuer-branded Renault engine, Red Bull Drivers Max Verstappen and Daniel Ricciardo will be hoping that the RB14 can help them mount a series title bid. Red Bull have struggled to keep pace with Mercedes since 2013 and will be desperate to have a fast start to the season.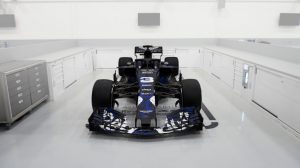 Unfortunately, the RB14 won't be racing in the uber cool livery it was launched in. The race colours will be revealed in Barcelona next week, when testing begins.