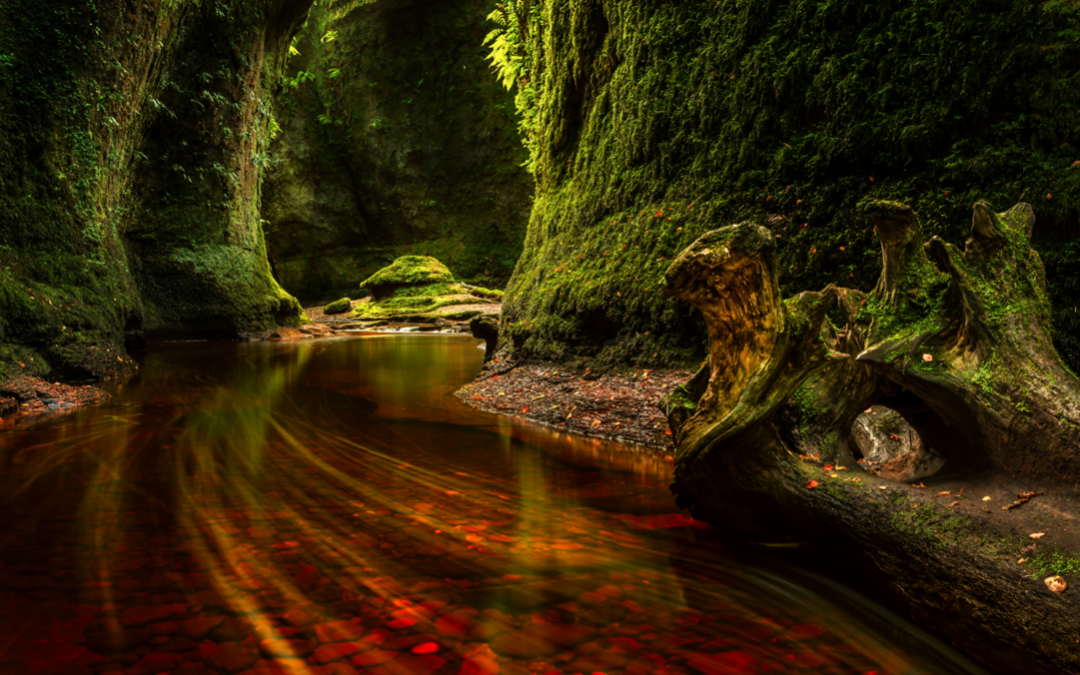 8 stunning UK spots you can drive to
In recent years, lots of us have learnt to appreciate our local surroundings a lot more. The UK is packed with beautiful scenery and breath-taking waterfalls, if you know where to go.
With the cost-of-living crisis hanging over us, it could be time to save a few quid with a staycation. If you're looking closer to home for a break, then this list is for you. Here's our top 8 UK must see locations:
1. Elan Valley, Wales
This gorgeous nature reserve is in Mid Wales, just at the northern tip of the Brecon Beacons national park. Elan Valley and Craig Goch Dam is a huge nature reserve, with over 180 species of bird recorded and over 300 species of flowering plant. The area is also home to stoats, otters, polecats, and many other cute mammals if you can spot them[1].  The estate includes tonnes of hiking routes for different abilities, and you can even hire a bike when you're there, to save taking your own.[2]
2. St Nectans Glen Waterfall, Southwest England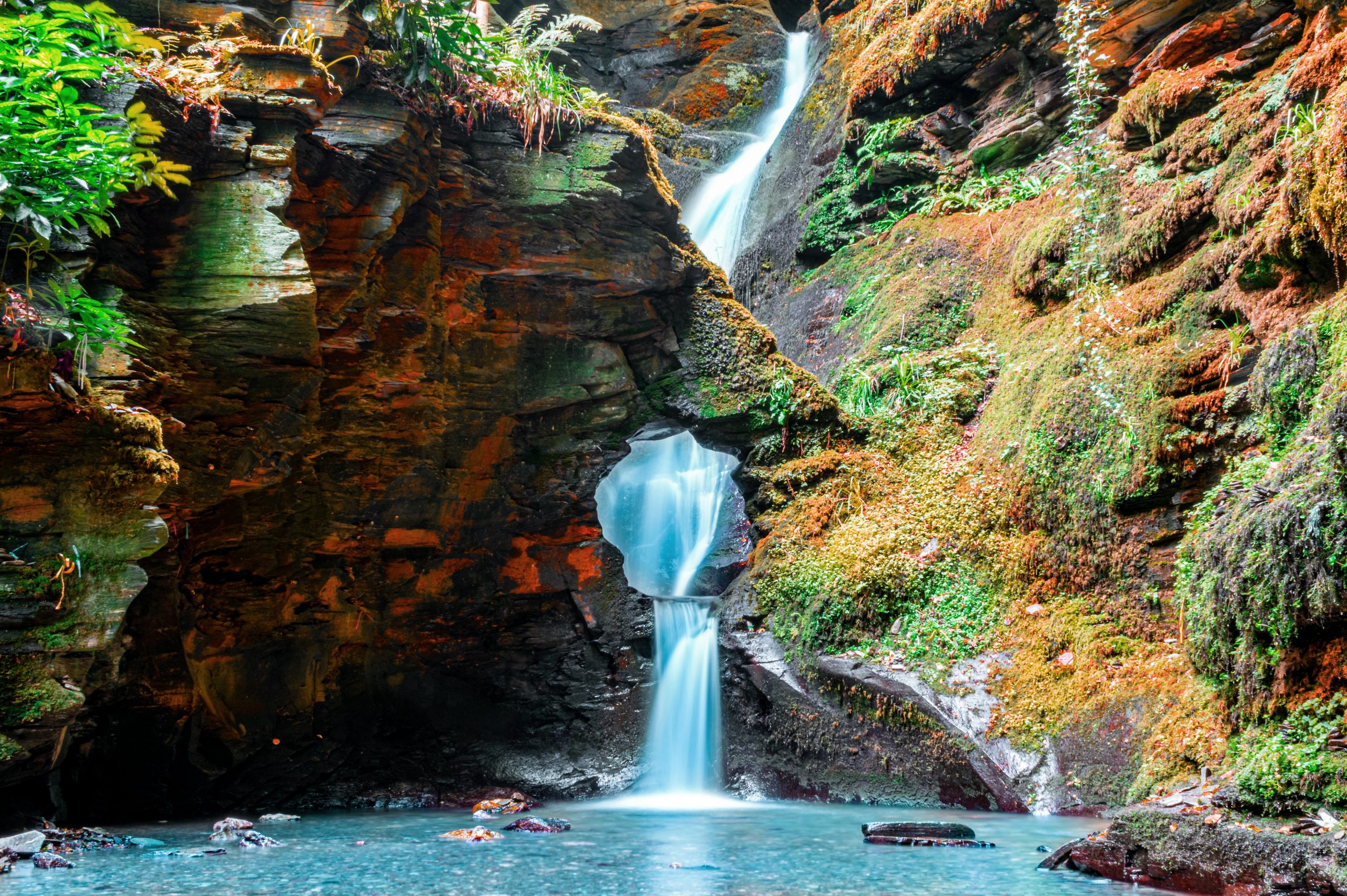 This Cornish beauty spot consists of a 60-foot waterfall, with crystal clear water. Not only is this a beauty spot but St Nectans Glen carries a lot of history too. It's believed "the Knights of King Arthur's Round Table went to the glen to be anointed before and after their search for the holy grail."[3]
There's a small entry fee to see the waterfall[4], but there are free walks around the area too and a lovely café. You could even make a day of it and visit nearby popular tourist attraction Tintagel Castle, where there are also spectacular views.
3. Devil's Pulpit, Finnich Glen – Scotland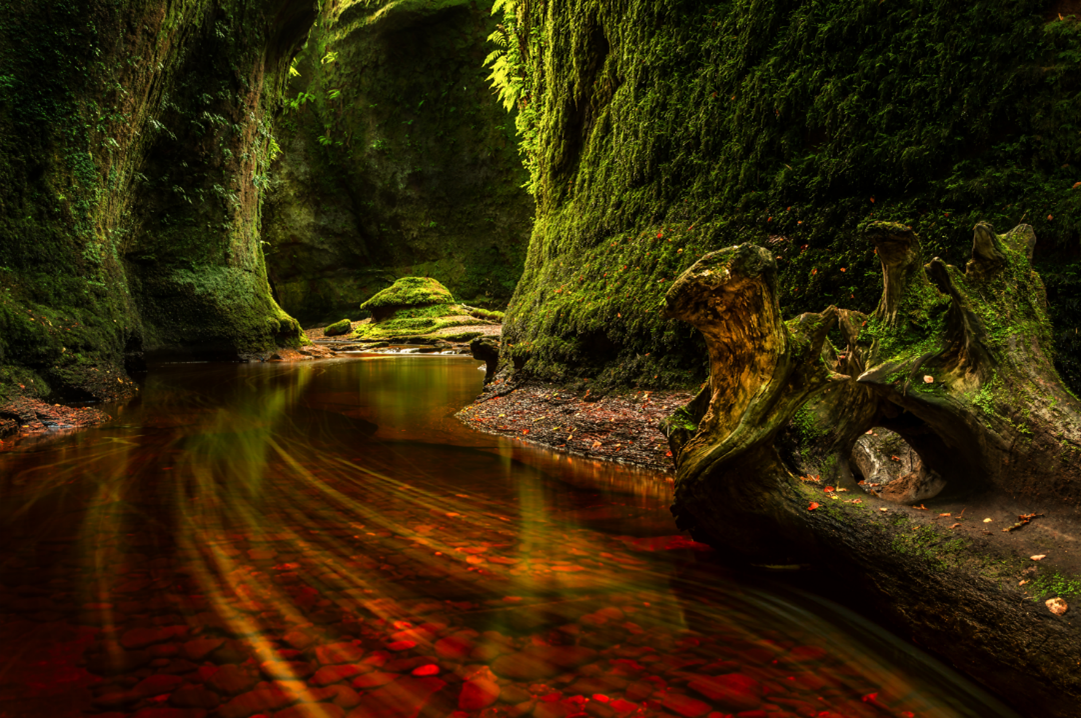 Just north of Glasgow in Finnich Glen, you'll find the incredible blood red water of 'Devil's Pulput'. Deep in a gorge, the mushroom shaped rock was once believed to be where the devil stood giving his sermons.
The water actually gets its red hue from the sandstone found beneath it. Contrasting with the bright green moss-covered walls, the scene is magical. So much so, the location has had a small TV role in the series 'Outlander' as the site of Liar's Spring. The descent down 'devil's steps' can be slippery, so be careful, hang onto the guide rope and enter the gorge at your own risk.[5]
4. The Dark Hedges – Northern Ireland
After featuring as the 'Kings Road' in the hit series 'Game of Thrones', the dark hedges of Armoy have become a popular tourist destination in Northern Ireland. The spot consists of a tunnel of beach trees which are estimated to date back to around 1775, however some of these trees may be around 300 years old [6].  In 2017, traffic was banned from the area to protect the tree's roots, so visitors can park nearby and stroll through this fairy tale location.[7] 
5. Durdle Door, South England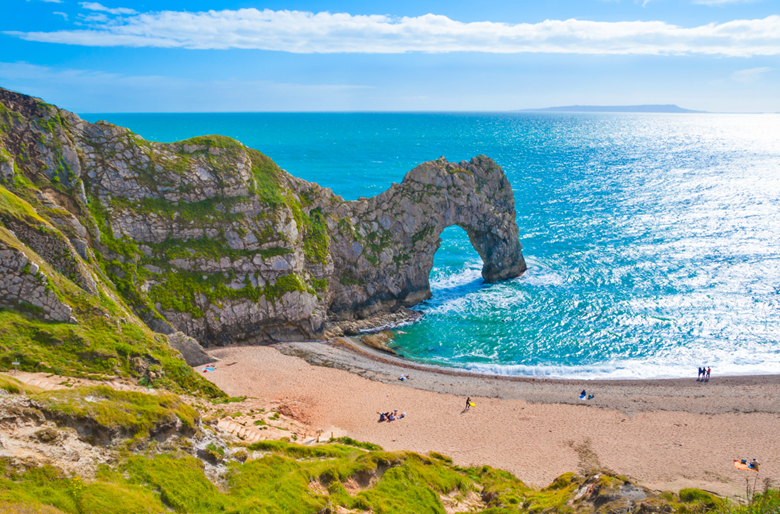 Named a World Heritage Site by Unesco in 2001, Durdle Door is formed from natural limestone and part of the famous Jurassic Coast. It's the perfect place to see billion year old fossils amongst the shingle beach – if that's your sort of thing. Located on the Lulworth Estate in Dorset, it's free to see and dog friendly all year round.
The wonderful arch was made when the water eroded the rock and formed a hole through the middle of the huge stone wall. The name Durdle is derived from an old English word 'thirl', which means to pierce, bore or drill.[8]
6. White Cliffs of Dover, Southeast England
Many feel the White Cliffs of Dover are a symbol of Britain.
Steeped in history, the white cliffs area was bought by the National Trust back in 2012 [9]. Their glowing white colour come from the fact they are nearly pure chalk. A trek along the cliff top coastal path from visitor centre to the lighthouse, takes around 2 hours, there and back. For history buffs, there is also the incredible Dover Castle perched nearby, and you can even take a visit underground to some WWII bunkers!
7. Rutland Water – East Midlands, England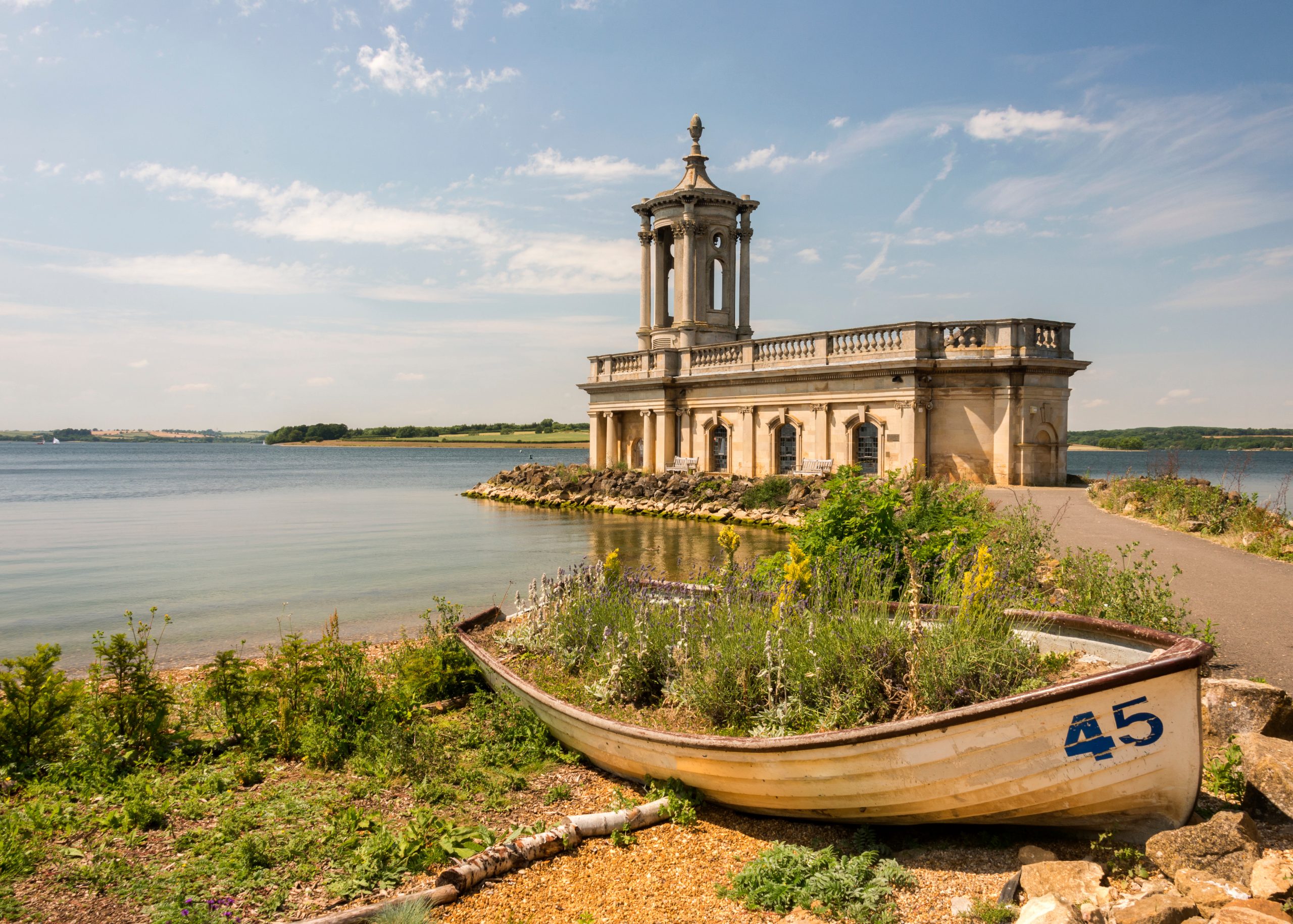 Despite being one of the smallest counties in the UK, Rutland Water has one of the most magnificent nature reserves. Featuring over 200 bird species, 1000 acres of land for wildlife and 4 miles worth of walking trails [10]. Looking out over the water is the Grade II listed St Matthew's Church, now de-consecrated, it was built in 1764 on top of a 14th century building. You can even get married there if it takes your fancy!
As well as it being a nature reserve, it's a popular wild swimming spot for those looking to cool off. You can also go sailing, do some water sports, or just admire the surroundings.[11]
8. Castlerigg stone circle, The Lake District – Northern England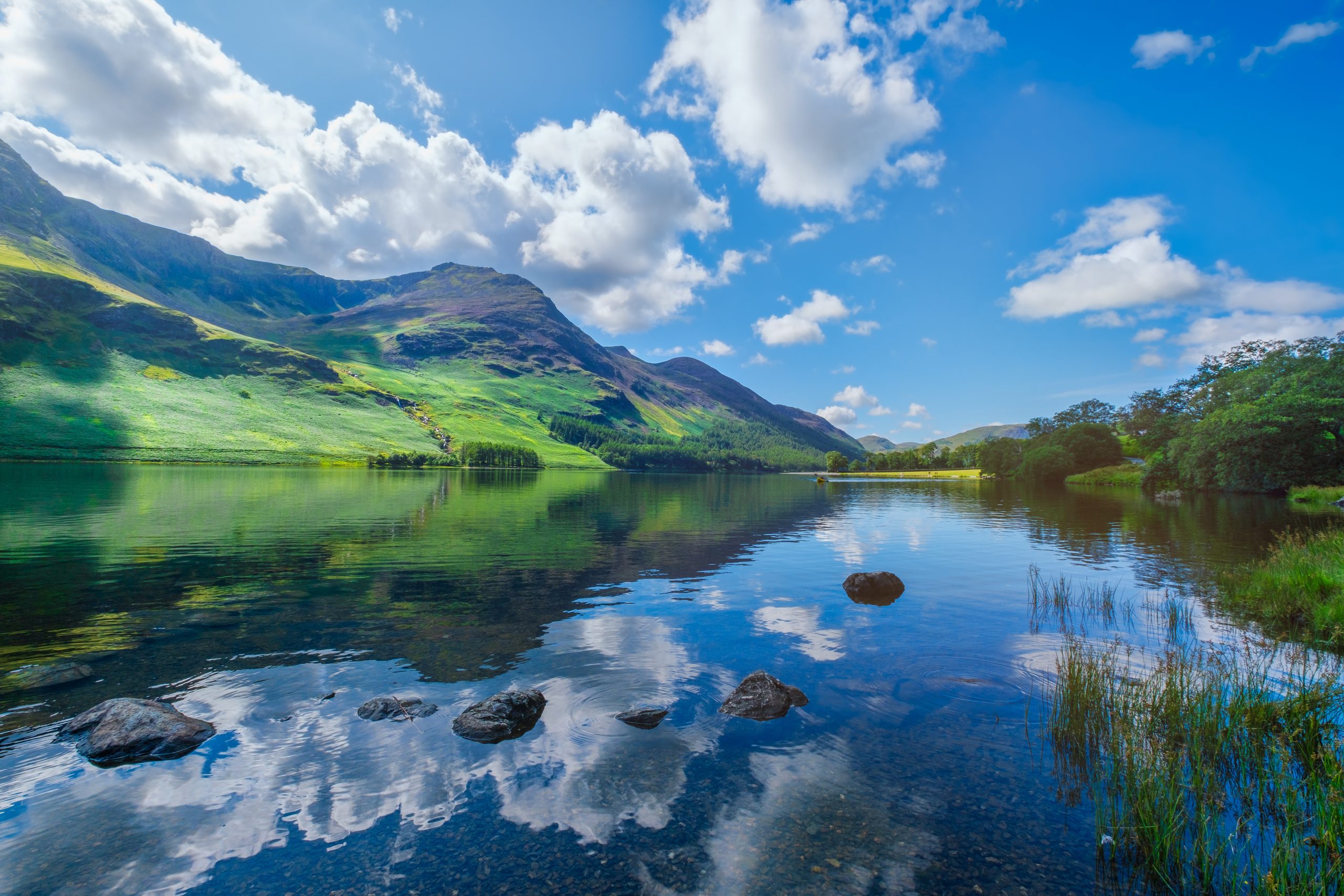 Most people have heard of Stonehenge, but did you know there are other stone circles in the UK? Castlerigg, near the town of Keswick was most likely built for religious or ceremonial reasons and consists of around 40 stones. Although not as tall as Stonehenge, the scenery surrounding the circle is breath taking.
Known as the UK's largest national park and a world heritage site, the lake district has plenty to do. Once you've seen the stone circle, there's 3100km of rights of way – meaning those who love walks or cycling are completely spoilt for choice[12].
Please remember when you are visiting these natural beauty spots:
LEAVE NO TRACE – This means taking any rubbish with you and ensuring no destruction is caused to the area from your visit.
Visiting in off peak times will not only allow you to enjoy the peace and beauty without the crowds but also with cause less of an impact on the local area – remember to be respectful to the locals of these areas.
When parking please ensure you are parked legally, responsibly, and safely to reduce the risk of collisions and unsafe crossings.
If travelling by car, make sure the driver is insured on the vehicle for the full length of the journey.
Looking for car insurance? Get a quote today with GoSkippy
Interesting read? Check out our Tips for driving to a festival