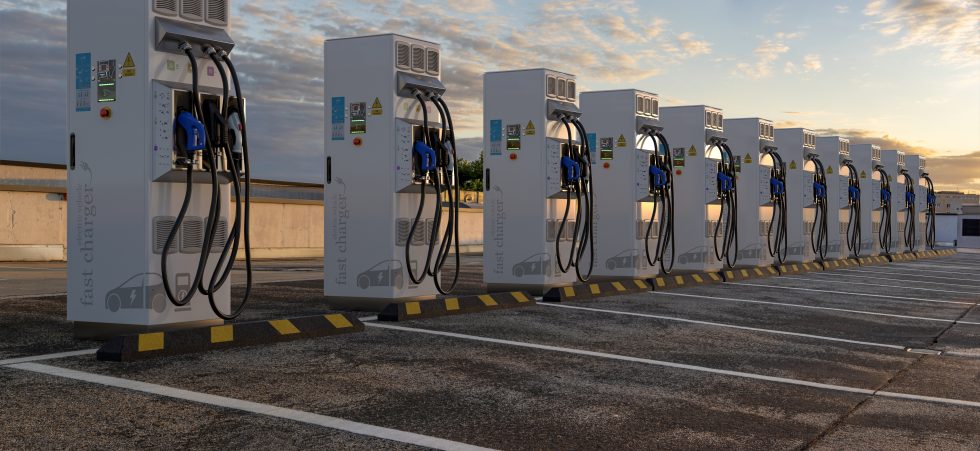 Where in the UK has the most EV chargers?
With the rapid increase of people buying electric vehicles, you might be wondering if there are enough chargers in your area for you to take the plunge.
As of July 1st 2022 there were 32,011 public EV charging points available across the UK, with 5,974 of those being rapid chargers[1].
If you are thinking of getting an electric vehicle and want to know how many chargers in your area, we've put together this handy guide for you.*
There are two types of chargers publicly available to you out there. Rapid public chargers and regular public charging ports.
Rapid public chargers
Rapid public chargers are three times faster than standard chargers, and can offer up to 120-145 miles in just 15 minutes of charging[2].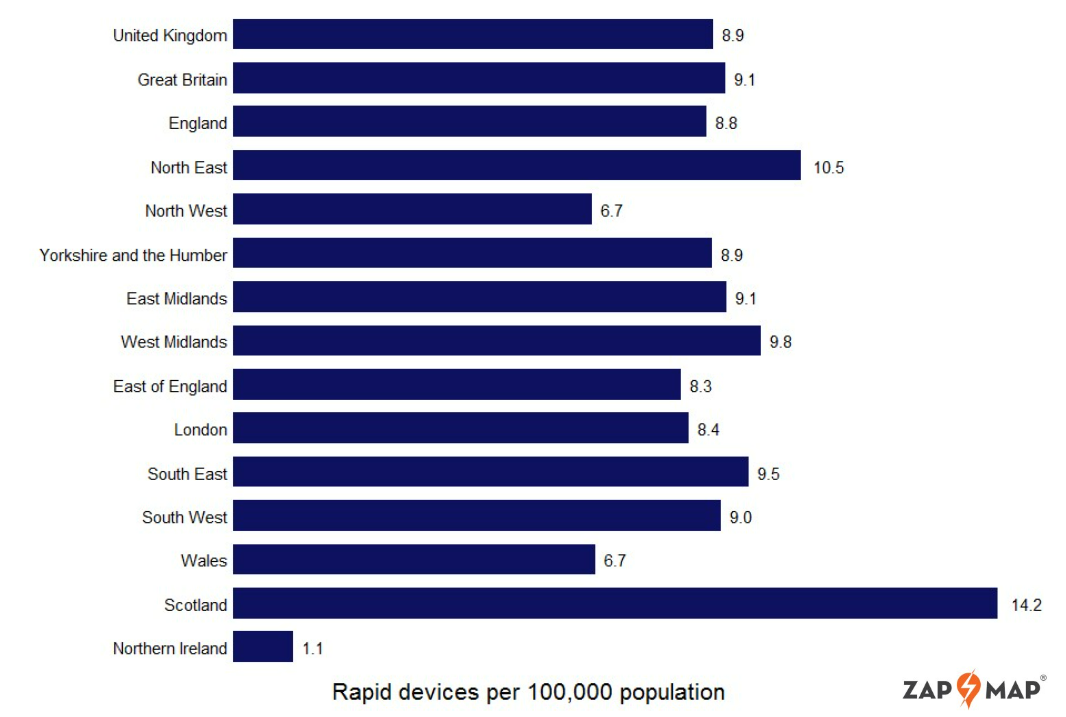 According to Zapmap, Scotland has the highest level of rapid charging devices by far, with 14.2 points per 100k people. This is significantly higher than the national average of 8.9 per 100k.
People living in the North East of England are also in luck, with 10.5 chargers per 100k people.
The lowest proportion of chargers to people you'll find is in Northern Ireland. They have just 1.1 public rapid chargers per 100k people.
Regular Public Charging points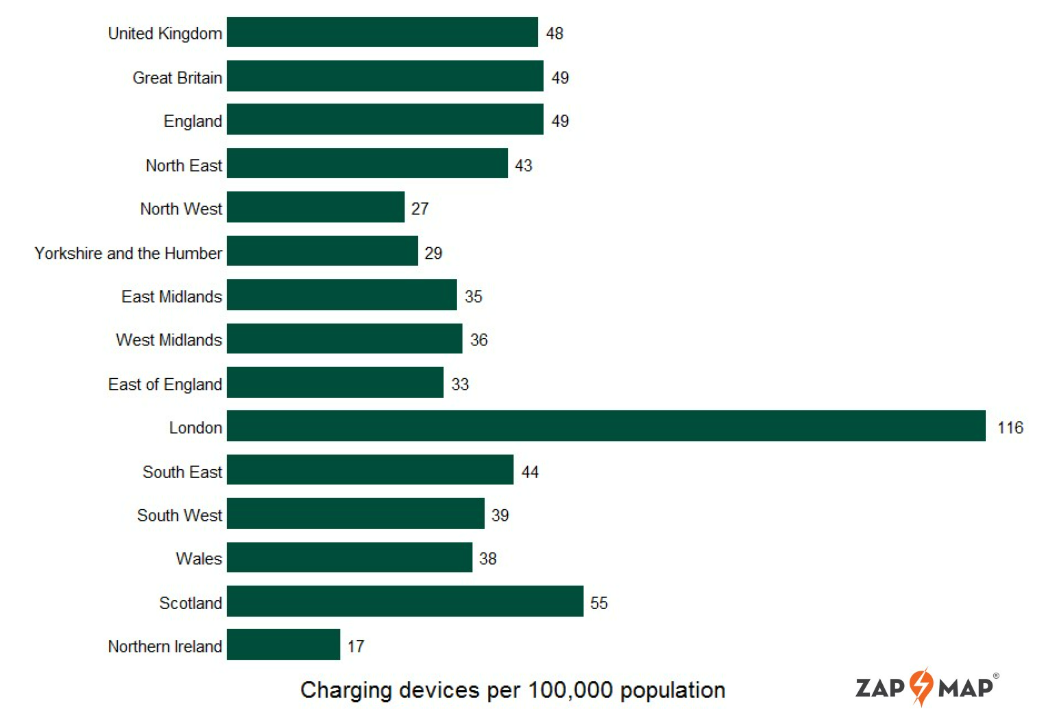 Regular charging points are far more common. Unsurprisingly, London comes in first on the list as having 116 public charge points per 100k people. This is a staggering 61 more chargers per 100k people than the next highest location, which is Scotland.
Scotland is impressively prepared for EV! It's the second-best place to live for public EV charging, with 55 charging points per 100,000 population.
The areas with the worst access to public charge points are Northern Ireland with 17 charge points per 100k people. Closely followed by The Northwest with 27 per 100k people and Yorkshire and the Humber with just 29 per 100k people.
If you are in a charging blackspot, all hope is not lost. There is always the option of home charging.
Home charging
For some, a home charger is the best option for peace of mind that you won't be caught out with a low car battery.
With energy prices going up, at home charging could be a worry for some. However, according to the RAC, charging your EV at home overnight can save you money due to lower overnight energy rates [3].
There are also government grants available to help towards the cost of installing EV smart charge points at home [4].
The only way is up!
The good news is, the number of EV charging point is increasing. At the end of July 2022, there was a 35% year on year increase in the number of charging points registered to Zap Map. Keep in mind, these figures don't include private chargers, like the ones in a workplace carpark.[5]
Have you got an EV? See if we can get you a great price on your car insurance now!
Want to know more about plugin vehicles? Check out our blog on Hybrid vs EV Cars: What is the difference?
*Statistics gathered by Zap Map on the number of publicly available electric vehicle charging points in the UK, broken down by Local Authority as of July 1st 2022.