Please note – This information is relevant to England, Scotland and Wales. For information regarding MOT's in Northern Ireland click here.
If you're a car owner, you'll know the feeling of dread that comes when it's time to drop your car in for its MOT. However, a stunning 9 million drivers don't know when their MOT is due, according to a UK survey.[1] For something most people need to do yearly, an MOT is rarely talked about. So here is our definitive guide to understanding your MOT.
What is an MOT?
MOT stands for the Ministry of Transport. This was the name of the government department that invented the test in 1960. That department is now called the Department for Transport, but the test name stuck.
What are MOT's for?
MOTs are to make sure your "vehicle meets road safety and environmental standards"[2].
An MOT checks the important parts of the vehicle to ensure it meets legal standards. On cars this includes:
General body of the car
Seatbelts
Exhaust system
Brakes
Tyres/Wheels
Steering/Suspension
Windscreen
Lights
Battery/ Electrics
An MOT does not check the engine, clutch or gearbox[3].
For a full list of what is checked on a Car MOT click here. To find out what's checked on a motorbike MOT click here.
Do I need an MOT?
Brand new vehicles don't need an MOT's until they are three years old. After this, all vehicles are required to have an MOT once a year. There are some cases where vehicles need to be tested from their 1st anniversary of registration. These mainly include Taxi's and Ambulances[4] but you can find the full list here.
Some vehicles are also exempt from MOT's, these include:
Tractors
Goods vehicles, powered by electric (registered before 1st March 2015)
Classic cars – there are conditions to this, find out exactly what they are in our blog.
To find out if you need an MOT and when it is due, enter your vehicle details on the government website.
How do I get an MOT?
The test must be carried out by an authorised test centre. You can find these all over the country, by searching this list. Only get an MOT at a certified test centre. Certified centres will display the blue sign with 3 white triangles (as seen in the image at the top of this blog).
My MOT has expired, What can I do?
If your MOT has expired, you must not drive your vehicle or park it on the road. Doing so could lead to prosecution and you'll need to store it on a driveway or a garage in the meantime. However, you CAN drive it to a pre-arranged MOT test or to and from somewhere to be repaired. Driving a car without a valid MOT test certificate could land you with a £1000 fine.
If you do not hold a valid MOT certificate, your insurance policy is also invalid. Meaning if you were to have an accident, your policy would not cover you and you will be prosecuted [5].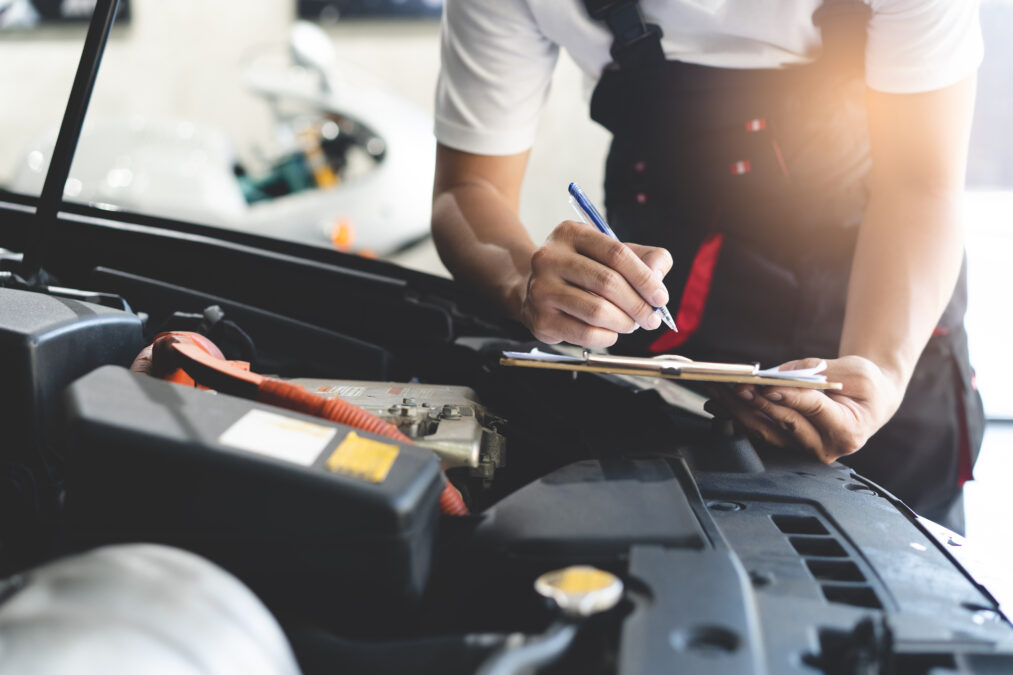 What do my MOT results mean?
In simple terms, your vehicle will either PASS or FAIL its MOT. However, even with passes you can still have 'minor' or 'advisory' problems with your vehicle. An example of this would include a low but legal tyre thread.
With a fail, you may have a 'Major' or 'Dangerous' problem. An example of this is a torn tyre. If a vehicle has a dangerous problem, it cannot be driven out of the MOT centre and will need to be repaired before it can be driven[6].
How much does an MOT cost?
The maximum charge for a car MOT is currently £54.85 and £29.65 for a standard motorcycle MOT*. For exact pricing for your type of vehicle click here.
*Price on 25th January 2023.
Looking for Car Insurance? Get a Quote today with GoSkippy
---
---
---
---
[1] https://services.totalenergies.uk/news/total-uk-survey-finds-nine-million-drivers-dont-know-when-their-next-mot-due
[2]Getting an MOT: When to get an MOT – GOV.UK (www.gov.uk)
[3] Car parts checked at an MOT – GOV.UK (www.gov.uk)
[4]Getting an MOT: MOT costs – GOV.UK (www.gov.uk)
[5] Is My Car Insurance Valid Without An MOT? | Comparethemarket