Being a 17-year-old, learning to drive and choosing a first car is some peoples dreams from a young age. But for some, a car just won't cut it, and the liberating feeling of riding a motorbike is what they dream of. However, the journey of getting a motorcycle licence is a little more complicated than a driver's licence. We've broken it down and put together all the information you need to know.
Learning
Before being able to learn to drive a motorbike there are certain steps a rider will need to take;
Getting a provisional licence and for those who already have a full car licence you can skip this step (you don't need two).
You will have to complete a Q-Ride pre-learner course.
And the last step before learning is to pass a Compulsory Basic Training (CBT).
The CBT is a training day taken by an approved training body (ATB) that cover the basics of the bike in the training centre and on the road. All motorcycles and helmets are provided. You must have the CBT before you can start learning to drive a bike. If an instructor feels like you would be a danger to yourself and others on the road, they can refuse to give you a certificate and therefore you will not be able to learn. Once you have a certificate you can start riding on the road with L Plates. Your certificate will last for two years.
Lessons on a bike don't vary too much to those in a car. Learners can choose whether they want to have hourly lessons with a trained instructor, ride with an experienced bike to build their experience or take an intensive course.
The Test
There are different levels of the motorcycle test;
The first licence is an A1 licence. At 17 years old you can sit both the practical and theory test and gain this licence this means you can ditch your L plates and ride on the motorway.
Then after two years on this licence you can take the A2 licence test. This means you can ride a higher grade of bikes.
Alternatively, you can keep driving on your CBT certificate for two years and then take the A2 licence test. The minimum age to take the A2 test is 19.
The last licence to gain is an A, this is the highest-level licence you gain get. In order to get this, you need to be riding on an A2 licence for two years. Minimum age you can get one of these licences is 21 with the appropriate experience.
Alternatively, if you just want to gain an A licence without doing the other tests, you can wait until you're 24 years old and do your theory and practical tests.
The motorbike test is separated into two different modules; off the road and on the road. Throughout the test, the test taker will be instructed through an earpiece up until the individual driver section. It is important to remember that only certain motorbikes are allowed into the test.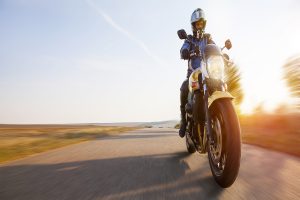 Some Exceptions
Like with all rules there are some exceptions. If you passed your driving test before February 1st2001 you can ride a 50cc moped on the road without L plates and with a pillion without doing your CBT first.
So whatever way you decide to learn, always remember the importance of bike insurance. Lessons and your test can be pricey, but no need to worry, GoSkippy offer cheap motorbike insurance to help get you out on the rode quicker.