With Halloween just around the corner, now is the perfect time to start thinking about all the delicious spooky themed treats that might make an appearance and that you can create yourself. Here are some of our favourites that have been tried and tested. They're all super easy to make so give them and go and let us know how you get on.
Marshmallow Spiders
We can't be the only ones who find spiders incredibly creepy, can we? But something about the marshmallow versions don't make them seem so bad. Check out this super simple recipe with only 4 ingredients.
You will need; marshmallows, white chocolate, pretzel sticks and decorative eyes.
Simply melt your white chocolate and dip the pretzel sticks in the melted substance. Make sure to cover all the stick.
Once covered place the stick on a baking tray covered in parchment paper, they need to be in groups of eight (4 facing each other, lengthways). Then using your white chocolate as glue, add your decorations to the 'body' of the spider (the marshmallow). Dip the bottom of your marshmallow in the chocolate and place on top of the pretzel sticks. Once this is done for all the sticks/marshmallows, place in the fridge to set. Once the chocolate is solid, these spiders are good to eat.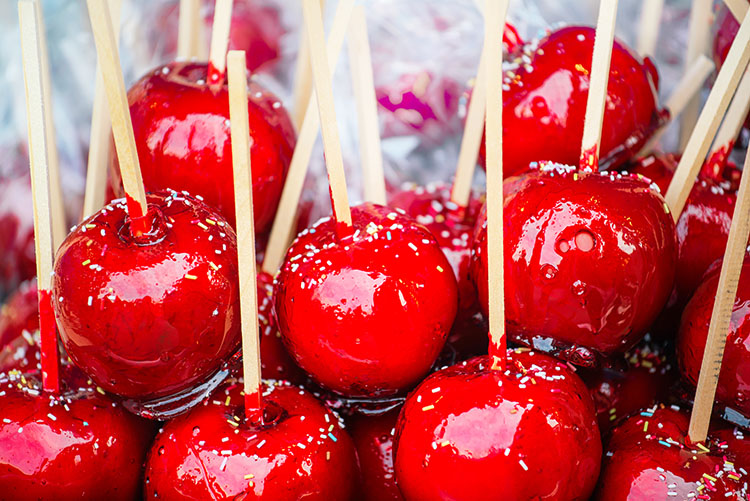 Candy Apples
It's not Halloween without the mention of candy apples, is it? And they don't even have to be candy anymore, chocolate and other themed apples are also all the range over October. And what's even better is that they aren't difficult to make. Check it out.
You will need; apples, 400g caster sugar, 1 teaspoon lemon juice, 100ml water, 4 tablespoons of golden syrup, red food colouring. You will also need some kind of stick for the apples.
The first thing you will want to do is remove the waxy outside of the apple, simply rinse the apples with boiling water and leave for 5 minutes. Pat dry the apples and remove the stalks.
Push the sticks into your apples, make sure they are in far enough as they need to be sturdy.
Tip all the sugar into a pan with the lemon juice and water and bring to a simmer. Add the golden syrup and be careful not to let it boil over. If you have a sugar thermometer, the temp should be 150C, if you don't, simply drop a little into cold water. If its ready, the mixture should harden instantly and be brittle.
Once its ready, add the red food dye and turn the heat off. You will need to work quickly with the toffee now. Dip the apples in the liquid, making sure the surface is covered then place on a baking tray covered in parchment paper. Do this for your apples. You can gently heat the toffee if it hardens during this process.
Once the toffee is hard, your apples are ready to eat.
Dracula Cookies
We don't think you'll find more spooky cookies if you tried. These Dracula biscuits are the perfect treat for any Halloween feast.
You will need; premade cookies or cookie dough (depending on if you would like to cook from scratch), vanilla frosting, mini marshmallows, slithered almonds, and red food dye.
To start, split your cookie dough into medium size balls and cook, remember that these will be split in half so don't make them too small. Half the cookies.
Add the red food dye to the vanilla frosting and mix well. Add a layer of the frosting to the under side of all the cookies.
Place your mini marshmallows around the edge of half of the cookies (these are the teeth). Place the non marshmallowed halves on top and stick your slithered almonds in between the marshmallows to make them look like fangs.
Its really that simple…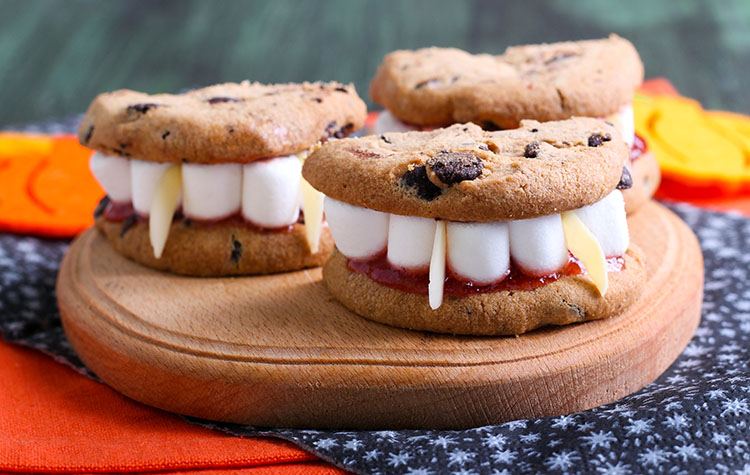 Bloody Truffles
These gruesome sweet treats are perfect for any Halloween gathering you may be having. With edible 'blood' and sugar axes, these simple cake truffles are transformed into some spooktacular sweets.
You will need; a baked and cooled cake (you can use a cake mix or make a basic sponge), vanilla frosting, white chocolate, iced weapons (these can be found on amazon), edible gel blood.
The first thing you will need to do is break the baked cake up into crumbs. You can do this using your hands or if you'd prefer, with a spatula, fork, or spoon. Gradually add the frosting to the crumbed mixture. You don't want the truffles to be too gloopy, so don't add too much at once. The exact amount will depend on the frosting and the amount of cake. You need the mixture to be able to hold itself in a ball, if its too crumbly, just add more frosting.
Make balls with this mixture and place them on a baking tray covered in parchment paper and let set in the fridge for at least an hour.
Once they are firm, its time to get the white chocolate on. Simply melt the white chocolate, making sure you are stirring at regular intervals and not overheating. Place your truffle ball onto a fork or dipping tool and lower into your white mixture. Check that all the ball is covered in white. Let the excess drip and place back on your baking tray/parchment paper.
Finally, decorate with sugar weapons and edible gel blood and you are ready to serve.
If you decide to give any of these recipes a go, tag us on Facebook, we'd love to see your creations. But, however you spend your Halloween, we hope you have a fang-tastic time. And make sure to check out our Facebook competition for your chance to win an epic Halloween hamper from Fortnum and Mason. There are five chances to win.
Disclaimer- Articles are for general information only – customers should always seek their own independent advice. GoSkippy is not affiliated with the organisations/businesses mentioned and does not recommend or endorse any of the included products or services. For more information please visit our disclaimer.