The government has now announced the new rules for the Christmas. The rules are being slightly relaxed and three bubbles can mix, but only between the 23rd of December and the 27th of December. We think this will cause a lot of traffic during these dates as people drive to join their chosen bubbles so here are our traffic busting tips to help you in case you get stuck.
To keep up to date with the latest rules please check the government website for the most up to date information.
Things you can do for your car
The first bit of advice we would give you is for before you even set off on your journey. Make sure to check your tyre pressures, your oil/water levels in your engine and other things like your lights. Plan you journey before you leave, if you are old school have a look at a map so you know where you're going and check the traffic. Most people will have access to a smartphone and can do this on map apps such as google maps (found on your app store) or through updates on highway Twitter feeds. The apps will show which way is quickest and where the traffic is so you can avoid it if possible.
If you do get stuck in (inevitable Christmas) traffic, try the following tips that may help;
Make sure your keep 3 seconds behind the car in front. This is to keep enough stopping distance in between you and the car before you. This should be increased if it is wet weather.
Consider other drivers. Don't drive aggressively and try not to hop from lane to lane. This will also help keep you relaxed and stress levels down.
Always keep your eye on the car and traffic ahead of you, anticipate what they might do. If the vehicle in front brakes, slowly take your foot off the accelerator and use your brake. Avoid braking suddenly as this may cause issues behind you.
Keep focused. Although traffic is slow things can still happen very quickly, from changing lanes to varying speed so make sure the roads have your attention at all times.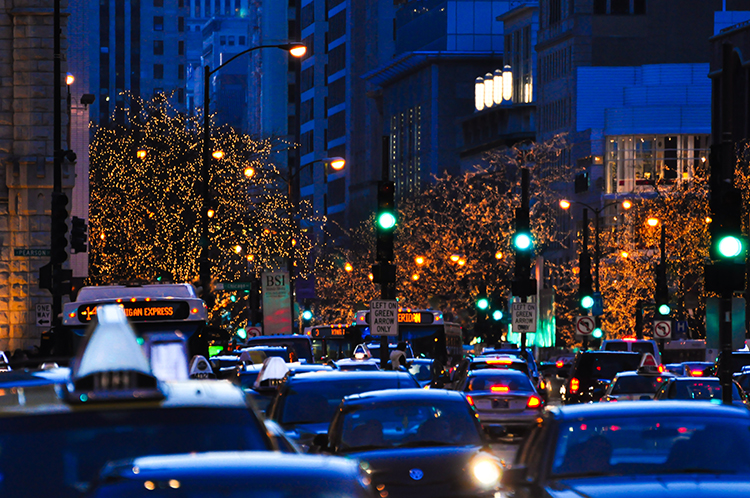 Things to keep you entertained
There's no disputing that traffic can be boring to sit in. So, here are a couple of ways to beat the boredom;
Who doesn't love a classic car game? Obviously this one is for people in cars together, although this doesn't stop single travellers from playing too. Favourites such as 'eye spy' are always easy go to's.
Whether you listen to music, the radio or even podcasts when driving, these are all great ways of staying entertained whilst stuck inside your car.
If you're in a car with others, TALK. You'll be surprised at how quickly the time will go when you get into a meaty conversation with someone. If you are able to use a handsfree device, then this could be the perfect time to catch up with someone over the phone. As always make sure you are paying attention to the roads
Our last tip would be to get comfortable. Car seats aren't the comfiest so try and get in a comfortable position if you are stuck. It may be a good idea to bring some sort of cushion or pillow to support your back just in case.
If you are travelling this Christmas and do get stuck in traffic we hope these easy to follow tips help you and keep you entertained. And however you have decided to spend this time of year we hope you have a very merry Christmas.
Disclaimer- Articles are for general information only – customers should always seek their own independent advice. GoSkippy is not affiliated with the organisations/businesses mentioned and does not recommend or endorse any of the included products or services. For more information please visit our disclaimer.