Here at GoSkippy we must admit that we love chocolate and throughout the last couple of months we have been baking a lot more. And to celebrate World Chocolate Day (07/07/2020), we thought why not combine the two and bring you our favourite chocolate baking recipes.
First is a classic, Chocolate cupcakes-
100g plain flour
20g cocoa powder
140g caster sugar
1 ½ tsp baking powder
40g unsalted butter (at room temperature)
120ml whole milk
1 egg
¼ tsp vanilla extract
Method-
Heat oven to 180C/160C fan/gas 4. Put the flour, cocoa powder, sugar, baking powder, a pinch of salt and the butter in a bowl or a mixer. Beat all the ingredients together until you get a sandy consistency and everything is combined.
Whisk the milk, egg and vanilla extract together, then slowly pour about half into the flour mixture. Beat to combine and turn the mixer up to high speed, scraping any mixture from the side of the bowl with a spatula. Pour in the remaining liquid and continue mixing for a couple more minutes until the mixture is smooth.
Spoon the mixture into the paper cases until two-thirds full. Bake in a preheated oven for 20-25 minutes, or until the sponge bounces back when touched and a skewer inserted into the centre comes out clean.
Leave the cupcakes to cool slightly in the tray before turning out onto a cooling rack to cool completely. Meanwhile, make either chocolate buttercream or plain buttercream (or you can buy this pre-made) and spread it over the cakes with a palette knife, or use a piping bag. Scatter over chocolate sprinkles, if you like.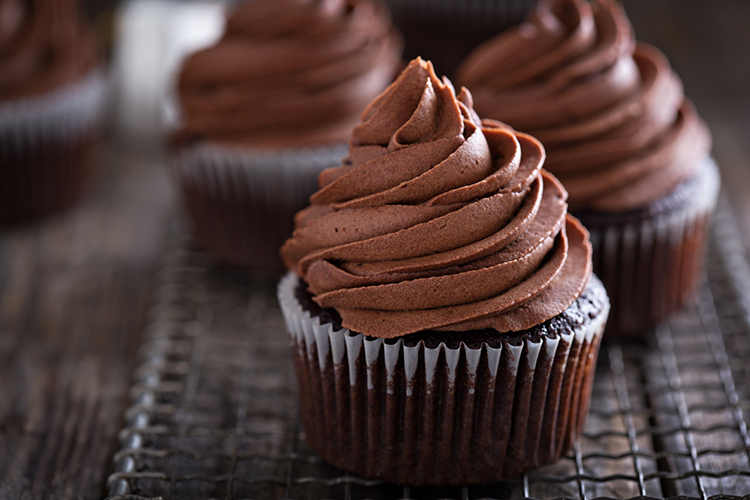 Cupcake recipe based on BBC Good Food.
Our next favourite is a chocolate traybake;
For the cake
250g plain flour
400g caster sugar
1 teaspoon bicarbonate of soda
1/2 teaspoon salt
120ml soured cream
2 eggs
225g butter
250ml water
5 tablespoons unsweetened cocoa powder
For the icing
6 tablespoons milk
5 tablespoons unsweetened cocoa powder
115g butter
500g icing sugar
1 teaspoon vanilla extract
120g chopped walnuts (optional)
Method;
Preheat oven to 180 C / Gas 4. Grease a Swiss roll tin.
Combine the flour, sugar, bicarbonate of soda and salt in a large bowl. Beat in the soured cream and eggs; set aside.
Melt the butter over low heat in a saucepan; add 250ml water and 5 tablespoons cocoa. Bring the mixture to the boil then remove from heat. Allow to cool slightly, then stir cocoa mixture into the dry ingredients, mixing until blended.
Pour cake batter into prepared tin. Bake in the preheated oven for 20 minutes, or until a skewer inserted into the centre comes out clean.
For the icing: In a large saucepan, combine the milk, 5 tablespoons cocoa and 115g butter. Bring to the boil, then remove from heat. Stir in the icing sugar and vanilla, mixing until blended. Spread icing over warm cake and top with chopped walnuts.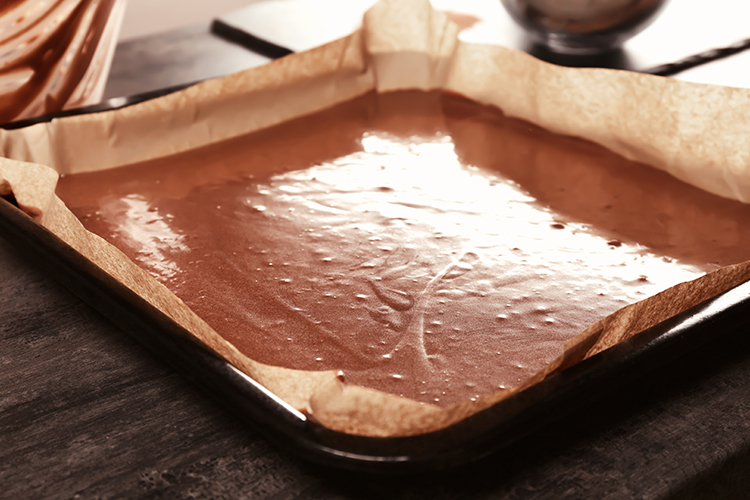 Recipe based on AllRecipes
A crowd pleaser is a double chocolate cookie and this recipe is great-
1 cup all-purpose flour spooned and levelled
2/3 cup cocoa powder
1/2 teaspoon baking soda
1/4 teaspoon salt
10 tablespoons unsalted butter softened (1 stick plus 2 tablespoons)
3/4 cup packed brown sugar
1/4 cup granulated sugar
1 large egg
1 1/2 teaspoons vanilla
1 cup chocolate chips
Method-
Whisk together the flour, cocoa, baking soda, and salt.
In a large bowl beat together the butter and sugars until fluffy.
Add the egg and vanilla and continue mixing until combined. Make sure to scrape down the sides of the bowl.
Slowly mix in the dry ingredients until incorporated.
Turn off the electric mixer and stir in the chocolate chips. I usually reserve about 1/4 cup of chocolate chips for sprinkling on top.
Cover the bowl with cling film and chill in the refrigerator for at least 3 hours or up to 48.
When ready to bake, preheat the oven to 180 degrees. Line 2 cookie sheets with parchment paper. Take the dough out of the fridge for 10-15 minutes to warm up slightly.
Form dough into balls 3 tablespoons in size and place 3 inches apart on baking sheets. (Or form into balls of 1 – 1.5 tablespoons in size and place 2 inches apart).
Bake cookies for 11-13 minutes until the tops are just set (or 8-10 minutes for smaller cookies). Remove from oven and let cool on the tray for 10 minutes before transferring to a cool rack to continue cooling. While the cookies are fresh from the oven, optionally dot the tops of each cookie with a few extra chocolate chips.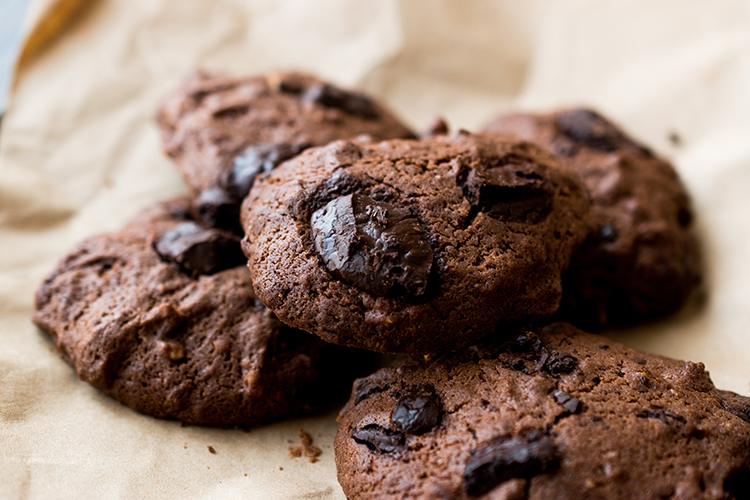 Cookie recipe based on Just So Tasty.
If you're like us and love your chocolate, keep your eye out for our next competition on Facebook.
Disclaimer- Articles are for general information only – customers should always seek their own independent advice. GoSkippy is not affiliated with the organisations/businesses mentioned and does not recommend or endorse any of the included products or services. For more information please visit our diclaimer.