Escaping the cold British weather is one of the highlights of going on holiday. When booking our next trip, the majority of us are seeking the sun, sea and some relaxation. We have been searching high and low to give you a list of some of the hottest countries to travel to each calendar month.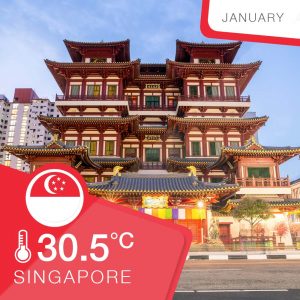 Starting off the year, our strongest contender for your hot holiday in Singapore. Singapore is set to be a scorching 30.5 degrees so its the perfect destination if you want to experience a new culture whilst getting that summer tan. Singapore has a lot to offer from the spectacular Marina Bay, the beautiful beaches in Sentosa and its ethnically diverse cuisine.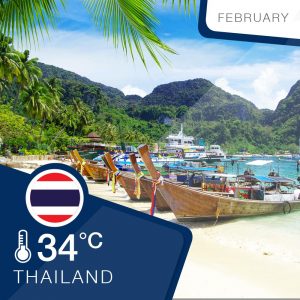 Thailand is the place to be in February, averaging at 34 degrees. Not only does Thailand bring you some of the most picturesque beaches, but it also has some of the most iconic street food stalls where you can find some of the spiciest cuisines. So, if you are looking to spice up your life a little next February, choose Thailand.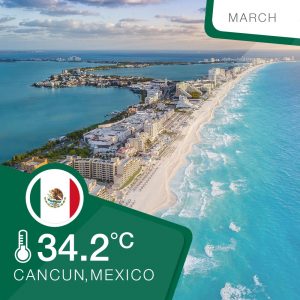 Luxury hotels and pearly beaches are some of the reasons why so many choose to jet off to Cancun. If holidaying in Mexico has always been a dream of yours we would recommend planning your trip for March. Cancun is really well-known for its snorkelling, as it has one of the largest reefs in the world, but if you really want to sit back and relax be sure to take a catamaran cruise.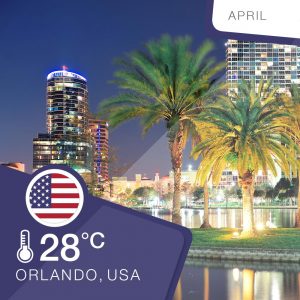 Always wanted to visit America? From water sports to theme parks and of course the Walt Disney resort you certainly won't be bored in Orlando. The perfect destination for you and your family; whilst the kids can enjoy all of the magical attractions, the adults can soak up the 28-degree sun whilst stroll around the 440-acre nature preserve.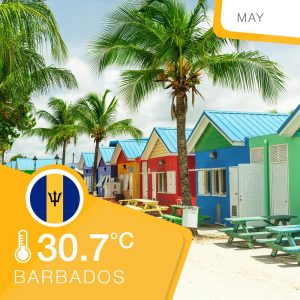 The Caribbean is a dream destination and where better to visit than Barbados? Filled with white sand and crystal clear oceans it really is a once in a lifetime holiday destination.  Barbados is perfect for you if you are looking for a relaxing holiday in the sun, the slow pace lifestyle definitely gives you that much-needed chill out. Also known for some of the yummiest fish cakes and cocktails in the world,  its definitely one to consider for your May holiday.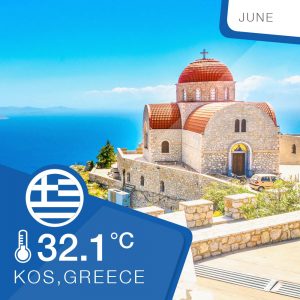 Greece is well known for its abundant sandy beaches and is rich in greek and roman landmarks, particularly in Kos. If Kos has always been on your list of places to visit and you're seeking that vitamin D then we would recommend travelling in June with highs of 32 degrees. Rich with culture and delicious cuisine Kos is a must visit.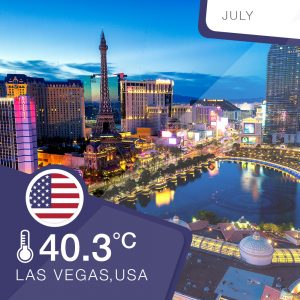 If Orlando isn't your thing then maybe Vegas will be! The party capital of America, Las Vegas is one of those bucket list destinations for many. Bright lights and endless entertainment, Vegas really is a show stopper holiday. Vegas offers multiple themed hotels, replicating some of the worlds famous landmarks such as the Eiffel Tower and the Statue of Liberty. Las Vegas reaches highs of 40 degrees in the month of July.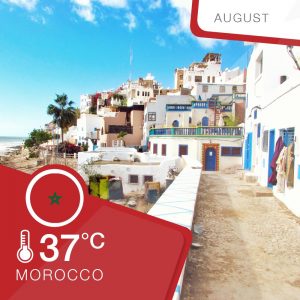 Morocco is a country in North America bordering the Atlantic Ocean and the Mediterranean sea so as you can imagine it is very hot. Hitting temperature of 37 degrees in August. Not only is Morocco of beautiful beaches and breathtaking architecture it has endless opportunities for adventure. Famous for desert sand-boarding, surfing and mountain trekking – there will be something for everyone. Book a stay in one of Morocco's Traditional homes which have been converted into hotel rooms to really experience the authenticity of Morocco.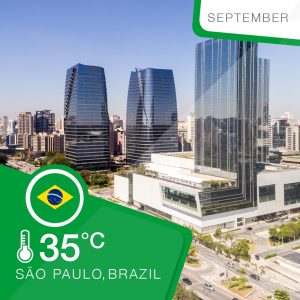 São Paulo is Brazil's financial centre, one of the most famous cities in the world for high-rise buildings, it's definitely a city break with a twist. With highs of 35 degrees in September and the amount of sightseeing it has to offer, make sure you pack plenty of suncream and good walking shoes.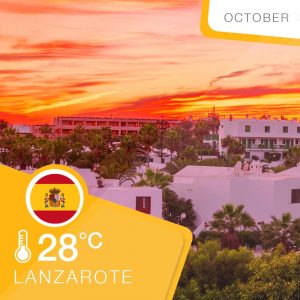 Is there anything that sounds more appealing than Lanzarote in October? Off the coast of West Africa, Lanzarote is known for its year-round warm weather, beaches and volcanic landscapes. What more could you want? If this doesn't float your boat then maybe you will take pleasure in exploring Timanfaya national park or running wild at the texan themed animal and water park. With lots to do and see, and with highs of 28 degrees, it is a perfect choice for escaping the cold British weather in October.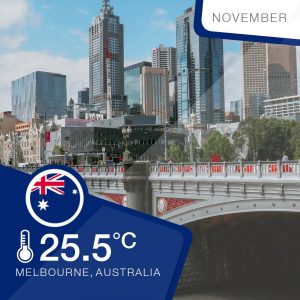 Melbourne is the coastal capital of Australia and is a hugely popular destination for us Brits during the winter months. November is one of our coldest months of the year so with Melbourne reaching 25.5 degrees it is definitely one to consider for that desired winter sun. Melbourne offers some fantastic theatres, museums and art galleries to see but if you are looking for something a bit more exciting you could get yourself a seat in one of Victoria's favourite sports and watch an AFL game.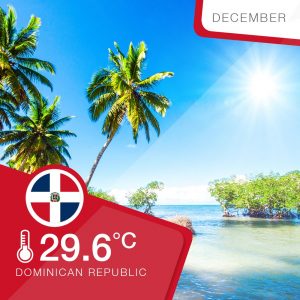 If golf is your preferred sport then you may have already considered your next holiday to be in the Dominican Republic. Also famous for its beaches and the Caribbean's tallest mountain its definitely a desired destination for many. The Dominican Republic offers luxurious resorts and hotels, setting the perfect scene for you to sit back and relax under the Caribbean sun.  Home to beautiful tropical forest and waterfalls, and even whale watching, there is so much discover.
Whatever destination you desire and whichever month you choose to jet off, we have you covered! Save yourself time and money get a travel insurance quote with us today. We make it easy and affordable for you to get covered giving you more time to sit back and enjoy the sun.
If you would like to share this on your blog or social media, you can download the full calendar here.
Information found – https://www.metoffice.gov.uk/weather/travel-and-events/holiday-weather/wheres-hot-when