We've all been there, haven't we? We picture something in our heads that we've wanted to buy for what feels like a life time but it just feels too far out of our reach. We've compiled some great saving tips that will help you reach your saving goal and that all-important purchase.
The first thing to consider is to monitor your current spending; try making a spending diary and see what you're spending your wages on. Why not have a look through your bank statement to see what goes out every month. Are there any direct debits that you've forgotten to cancel or are you spending a couple of pounds a day on lunch? Looking at your money this way will shine a light on the unnecessary outgoings that you may have.
The next step would be to make a budget. This budget should be workable. Plan your spending but also plan for irregular occurrences, for example, car maintenance. This budget shouldn't be unattainable, be realistic with it and you will find it much easier to maintain.
Technology is your friend! As Ruth Bushi from Save The Student has stated, there has been a 'surge' of apps that can help and prompt you to save such as Get Chip and With Plum. Just by simply connecting your current account to these apps, they can create an overview of your spending and even work out how much you could be saving a month.
Sell your old things online through eBay, Depop and other online selling platforms. There are probably lots of things currently sitting in your house and even your wardrobe that have no use to you anymore but that someone else would really appreciate. Even if you only made a couple of pounds per item that's still extra money in your 'dream purchase' tin.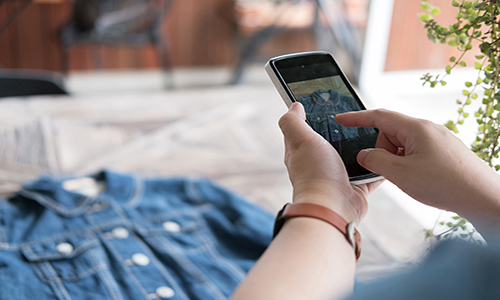 There's nothing wrong with hunting down discount codes and coupons. Many retailers will reward their loyal customers when you spend with them through a loyalty card, you can gain points to spend against purchases or even coupons. One coupon enthusiast Holly Smith managed to save enough coupons to buy £1200 worth of items from a supermarket back in 2015. We're not saying your couponing has to be this extreme but the extra saving of £5 here and there will all add up and help.
What better way to add more money to the pot than to increase your income? There are online surveys that anyone can sign up to get paid to fill out, the longer the survey the more you could get paid. You can do as many or as little as you want depending on how much spare time you have. Surveys get sent to your email so there's no hassle your end. There are plenty of websites out there so plenty of surveys to complete.
Once you've finished your saving and you've made that purchase that you've been waiting for, it's important to protect it with insurance. So, whether you have finally purchased that car, dream holiday or even taken the big plunge and put a deposit on a house, GoSkippy have the perfect home insurance to cover you. Get in contact today to get a quote and protect that new shiny purchase.