Decided you want to revamp at home? The look and feel of your home are important and It's often a long process trying to decide on designs to go for.  We've all been there… scrolling through pages and pages of interior design magazines, spending hours walking through the showrooms in IKEA to find the latest trends. Whether you want a fresh coat of paint or a whole new home, we have compiled 10 of the best home interior Instagram accounts to inspire you!
Home design and style is something Hanburyglam definitely understands. Her attention to detail reflects her background as a graphic designer. This is a fairly new Instagram account and already has over 1.5k followers! Hanburyglam is the definition of elegance, using neutral colours and silver finishing's she has really created a luxurious home. Her perfectly organised, colour coordinated wardrobe is something we should all aspire to.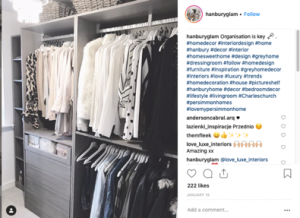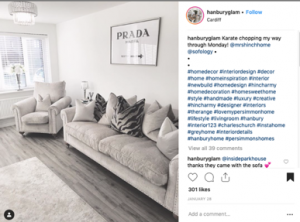 Sparkly Interior Designer is a new account, yet already has nearly 1000 followers. This mum of 2 has a keen eye for upcycling and designing on a budget. She shows how, by shopping around for second hand or budget versions of what you want, you can design your dream home without it costing a fortune. By adding a little creativity, this lady was able to make the most of her space and has given her many followers a lot of house envy.
Mrs Hinch has revolutionised housework, making those hard to do tasks fun! The conversation around this woman is taking Instagram by storm. On her home interior blog, she has 1.8 million followers, she has featured on morning shows and even written a book. If you want your feed filled with fun ways of keeping your house and style inspiration, then this is one that you need to add to your list.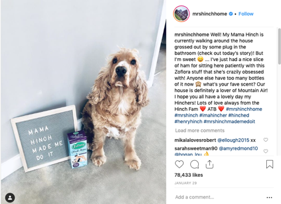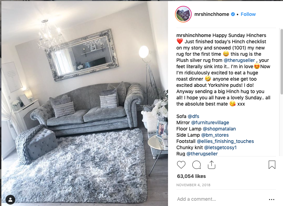 With nearly 80K followers this woman has attracted a lot of attention for her house transformation stories. She has shown how you can make a huge difference in a short space of time with simple step by step guides available. She uses her posts to provide valuable information and respond to requests.  As well as offering great pricing/budgeting advice around her designs.
Han_house
This interior designer has a great following of 13.5k. Her unique design gives an artistic approach to home design. Using sculptor and artisan pieces, and using silvers and creams to reflect her culture, this is a beautiful well-designed home. With added extras such as using flora and clay pots to give a stylish and homely environment.
This published, award-winning, interior designer, has 15.9k followers and focuses on home improvement from start to finish as well as simple changes you can do to increase the value of your property. She even shows you how to decorate on a budget, by using high street versions. Follow her story and you can be part of her own project – revamping a stunning 1930's house to a modern stylish property.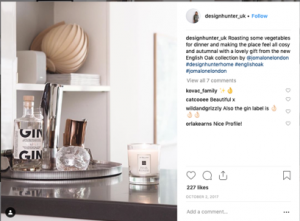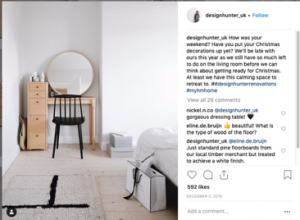 This interior designer from NYC has an astonishing 134K followers. From watching her build her dream apartment, to seeing the life of an interior designer this is a really unique and interesting feed. With stunning pictures of the houses of New York and links to her published/featured work, it really is something to aspire to.
This interior designer loves to share pictures of his recent projects. He has over 136k followers and has designed for many prominent figures in fashion, film and music. He also has been heavily published for his world-renowned designs. He is known for his vibrancy and use of colour and patterns in all his work creates a "cool vibe" in all his project, giving a downtown New York style. With high-end furniture and décor, this is something we all inspire to recreate.
This feed takes hard work from searching for the best interior designs across Instagram. It collaborates and shares the most stunning designs across multiple rooms, in a wide range of styles. If you're looking for inspiration, then this is certainly the blog to follow. With over 660k followers it is becoming extremely popular. As anyone wanting to make a change to their house, looking for some inspiration, this has the majority of designs demonstrated.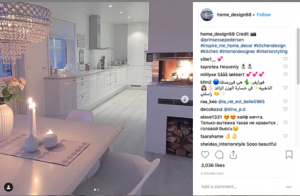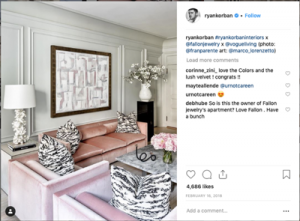 This interior designer uses her friend's pad to show what she is capable of. She posts her amazing designs on her feeds and what a range this is. This will inspire you to get creative and start thinking about updating your rooms. With over 70K followers this one is exciting and vibrant and one that will liven up your feed.
If you fancy yourself as a home design enthusiast and spend time and money working on that perfect style for you, make sure you protect your price possessions by having the right home and contents insurance. Get a quote today with GoSkippy home insurance.