Paint your walls
A slick of paint on the walls at home can make a huge difference to the whole feel of the room. If you can only afford 1 wall buy cheap white/cream paint for the rest of the room and then paint that one feature wall – not only does it add life to the room but the feature all can be decorated with mirrors or cheaper artwork.
Use cushions instead of reupholstering
If your sofa looks tired buy some cheap colourful cushions that stand out especially for light coloured sofas. It can make the room far more attractive and it is so much cheaper than an upholster – plus if you go to supermarkets or cheap homeware shops sometimes this could only cost around £20 for 6 cushions.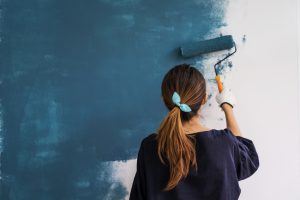 Get rid of clutter
Nothing can brighten up a room then a good old fashioned clear out. Get rid of old and non-used items. You can also give back by donating some to charity. It feels good to remove clutter and make more space for yourself.
Shape up your floorboards or add rugs
If your carpet is stained removing it can be the best option to make your room have some "sparkle" yet if you can't afford/don't want to spend out on new carpets, sanding the floorboards down then polishing it can look fantastic and is very easy to do. To stop floors looking bland, adding a rug breaks up the flooring and adds some comfort to your house.
Lighting and mirrors
Even in the smallest apartment, mirrors can make the room look larger and brighter. The reflective nature of the mirrors bounces the light around and makes the whole room feel more airy and spacious.
Mix and match
Why waste time and money trying to find "that exact piece of furniture" when you can get a style that looks unique and in my opinion stylish.
Add some plants
To make a home feel and look delightful this final touch can really make the difference. Having plants in your home also have lots of health benefits. By putting in the effort and thinking outside of the box, you can create a lovely decorated home on a small budget.
Once you've set up that beautiful design that's perfect for you, make sure you get home insurance for peace of mind and reassurance that if the worst should happen all that hard work will not go to waste. Get a quote today with GoSkippy home insurance.